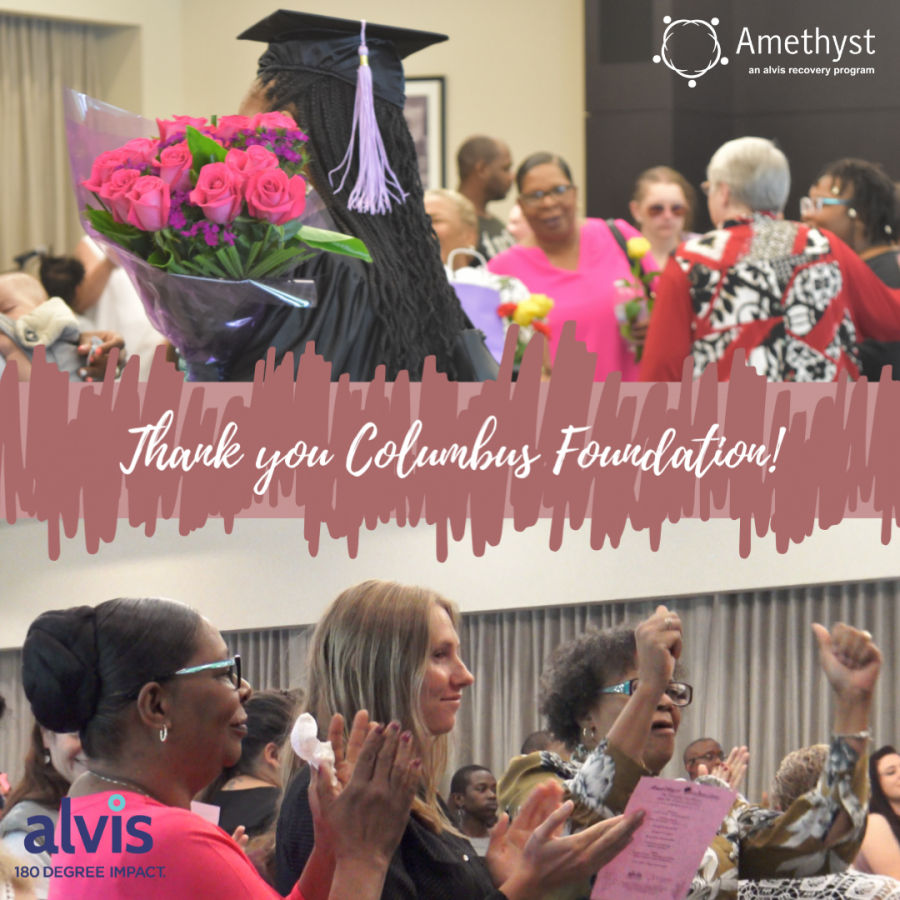 Amethyst, an Alvis recovery program, provides integrated behavioral healthcare services specifically designed to meet the treatment needs of women. This unique program also provides supportive housing and children up to age 18 can live with their mothers while the mother is in treatment. The children receive counseling and other supportive services to address issues that may have arisen as a result of having a mother impacted by addiction and they participate in prevention programming designed to break the cycle of addiction.
On June 28th, The Columbus Foundation hosted the graduation ceremony for 12 women who completed all five phases of the Amethyst program. In what was once an annual ceremony, these graduations now occur twice a year because there are so many clients served in the Amethyst program. The room was filled with families, sponsors, community members, and agency staff. After opening remarks from Alvis President and CEO, Denise M. Robinson, each graduate was introduced by their counselor and then shared something about their recovery journey. Many touching, inspirational stories were shared.
"Today, we are celebrating the healing power of recovery, reunited and strengthened families, and hope for a brighter future," said Robinson. "The fact is, no one comes to the Amethyst program because things are going well. It took strength and courage to get you into treatment. The day you came to the Amethyst program, you let a little sliver of hope into your life. Over time and with the help of staff, the clients who came before you, and others, that little sliver of hope began to grow...Today, your sliver of hope has become a shining star."
Victoria "Tori" Buck, one of the primary counselors at Amethyst, led the individual recognition portion of the graduation ceremony. Ten graduates were in attendance. A powerful statistic she brought forth was that all of the graduates, combined, had a total of 32 years, 1 month, and 6 days clean and sober.
All of the graduates, and nearly everyone in attendance, was privy to a range of emotions, including lots of laughter and tears. Not every graduate was able to articulate how they felt, but the room felt the sheer impact of their stories, their feelings, and their hope.
"When I came to Amethyst, I thought nothing was wrong with me," began Jess, one of the graduates. She thought it would be easy to pass through Amethyst, but realized that she needed her perspective challenged. "It's created a new self-awareness. I'm very aware about the things I do and why I do them." Now, as she leaves Amethyst, she considers clients and staff as family.
Another graduate, Robin, thanked God, and those who believed in her from the start. "What Miss Denise said about feeling lonely, hopeless—I felt all that. This program has helped me restore everything." Courtney, another graduate, remembers the exact day she changed her life: April 24, 2015. This was the day she drove herself up to the Amethyst program to enter treatment. "I had to humble myself and ask for help, which still to this day is very hard to do." While, in the beginning of this program she was doing it for her children, after this program, she now finds that she's doing it for herself.
Two other meaningful parts of the ceremony involved the graduates giving flowers to others. First, they gave flowers to friends and family members who were especially helpful to them during their time in the program. Then, the graduates gave flowers to all of the women in the Amethyst treatment community in each phase of treatment, descending from Community, Empowerment, Foundation, Hope, and Entry.
Virginia "Ginny" O'Keeffe, one of the founding mothers of Amethyst, was in attendance at the graduation. Because of her shared vision and heart with the other founding mothers, the Amethyst program has saved thousands of lives over the years. Sarah Niemeyer, who retired as Clinical Director of the Amethyst program a couple of years ago, was also at the ceremony, cheering on the clients for reaching this milestone.
Shannon Ginther, Chair of Columbus Women Commission, Senior Director of Community Health Partnerships at OhioHealth, and First Lady of Columbus, expressed her sentiments upon attending the graduation. "It's even more amazing standing on this side," she said. "Thank you for the opportunity to be with you today." Ginther's whole life has been spent learning about women, families, communities, and how to best help them. She stressed the impact of hearing real stories from the women, both as sources of education and inspiration. "You are exactly where you are meant to be. Step proud, step into that. Congratulations!"
Linda Janes, Chief Program Officer of Alvis, closed out the ceremony, noting, "Outside of this room, we hear one story after another about the tragedy of the opiate epidemic. Today, we've heard about recovery that works, that lasts, and that is changing the future for these women and their children." Janes said that all can feel the warmth and hope shine in this room. "The Amethyst program is so much more than a treatment program - it is a community of recovery." Like other Alvis programs, the Amethyst program remains committed to turning lives around. "We wrap our arms around you and we hold you tight. Our staff never give up."
Alvis is a nonprofit human services agency with over 50 years of experience providing highly effective treatment programs in Ohio. Our vision is that communities value a person's potential more than their past. For more information on how Alvis can help you or to learn more about how you can get involved, contact us here.