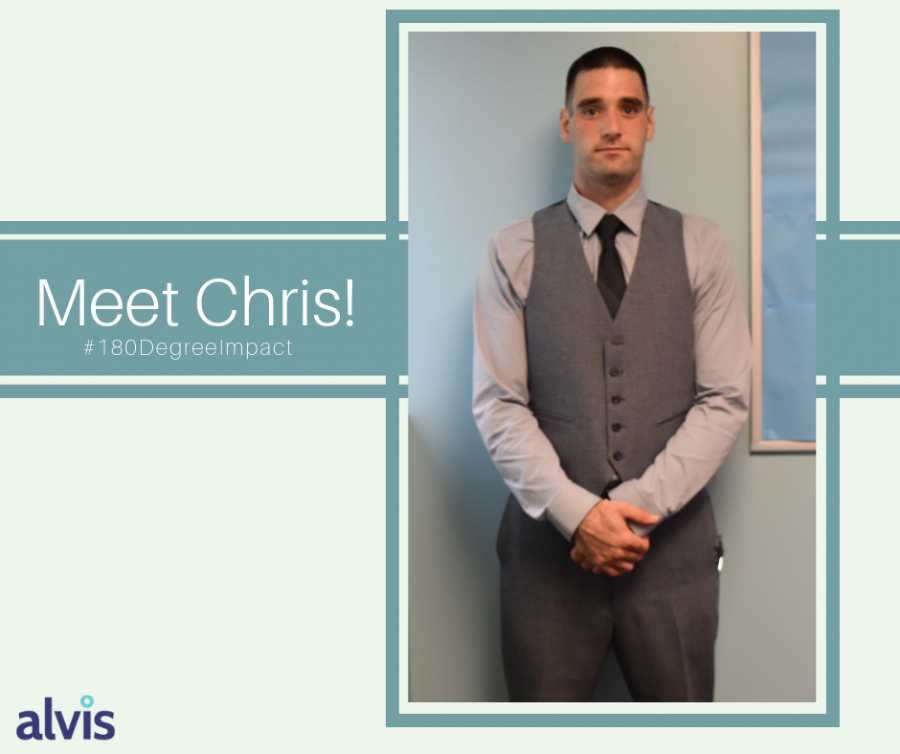 Chris, 24, is from Zanesville, Ohio. After serving 52 days at the London prison, he now is finishing up his time as an Alvis client at our Jackson Pike location, on a treatment transfer program (TTP) for drug and alcohol users. TTPs are individualized, based on what programmers determine a particular client needs.
Chris began his time at Alvis in an IOP (intensive outpatient program), and then completed classes at the Reeb Avenue Center. He then went to OSHA-10 and OSHA-30, which are construction-oriented occupational health and safety hazard training program. Chris quickly progressed through his outlined programming for Alvis, however, and now tutors people at one of Alvis' re-entry centers for GED certification. He's doing this until completely finishing his TTP, upon which he'll be released with an ankle monitor—but he's also doing much more.
"After I started going to the re-entry center and saw how everything operated over there, after I finished all the certificates I could get over there for my career path, I was basically done at that point… I started tutoring people over there. They gave me my own office that was vacant. I'd stay over there 8-5 every day, tutor people and help with anything I can throughout the facility and the operations that they do over there." Not only has Chris become a valued asset to Alvis at the re-entry center, but he is considering a career with Alvis after finishing his time as a client, after 2 years! Lots of people who have involvement with the justice system need to be tutored for GEDs, and Chris has a college background, with a 4-year bachelor's degree in occupational safety and health administration. Additionally, Chris helps fellow clients with employment, staffing, housing, applying for social security benefits, and accessing benefits. "Some of the people don't even think of me as a client," he says.
Before arriving at Alvis, Chris thought that it was only a halfway house. He did not expect the slew of services and programs that were readily available for him to take advantage of. "Also," he adds, "when I get out of here, I can use these services for life." Chris has been going home on passes for nearly a month now. For him, Alvis is now like a legitimate job, which completely helps him prepare for the rest of his life after completing his programs here. On weekends, he goes home and relaxes. "The impact this has on the community is really everything, between housing and funding and financial aid for schools, references through Alvis…everything you need, they can help in some aspect, and if they can't, they'll find someone who can."
Chris is in the process of getting his record sealed so he can possibly go back to firefighting again. Firefighting was Chris' former career path, as he grew up and attended Jr. Fire Camp from age 13 throughout high school. He was a firefighter until he turned 21 and got married. The skills that he learned as a firefighter have applied at Alvis, too. Chris impacts some of the younger clients at Jackson Pike, who are less experienced and aware of the reality of the justice system. "Make this the stopping point at Alvis," he frequently stresses, "and make things better."
A big motivator for Chris' drive to help out at the re-entry location is seeing the impact he makes on fellow clients. "The more and more I give back, the more I help people like I'm doing now." Chris was imprisoned on May 15th of last year. Being in such a controlled environment despite his social, active personality, drove him to seek out ways to become involved, which led him to going above and beyond after coming to Alvis.
"I know where I was in my worst days of addiction, and I don't ever want to go back there, so I try to help people as much as I can to lift their self-esteem, lift their self-worth, and help them achieve what they want to do." A typical day for Chris used to involve IOP three days a week, and fellowship with other clients. "It's laid back, really," he explains. In the early days, challenges arose, as did experiencing bad behaviors. Chris strove to set himself apart from the bad behavior. He finds importance in getting out of the location itself and not simply staying in the building, so that clients are able to truly see what is out there and available to them.
Chris is thankful to Alvis for the tools it has given him to take his life back into his own hands so that he can live up to his true potential. "It's a very good organization, and I'm very blessed… not everyone gets this opportunity." For Chris, Alvis is a stepping stone to get back into the community, and his actions demonstrate how clients are able to make huge, #180DegreeImpacts in order to better themselves.
Treating the whole person doesn't end in diagnosis or programming at Alvis—it entails focusing on clients as they progress throughout their entire journey. Even as they graduate into the real world, Alvis remains as a resource for them to help with transitional needs that may arise. We congratulate Chris on his journey to recovery, and thank him for going above and beyond to pass light onto others in the Alvis community.
Alvis is a nonprofit human services agency with over 50 years of experience providing highly effective treatment programs in Ohio. Our vision is that communities value a person's potential more than their past. For more information on how Alvis can help you or to learn more about how you can get involved, contact us here.