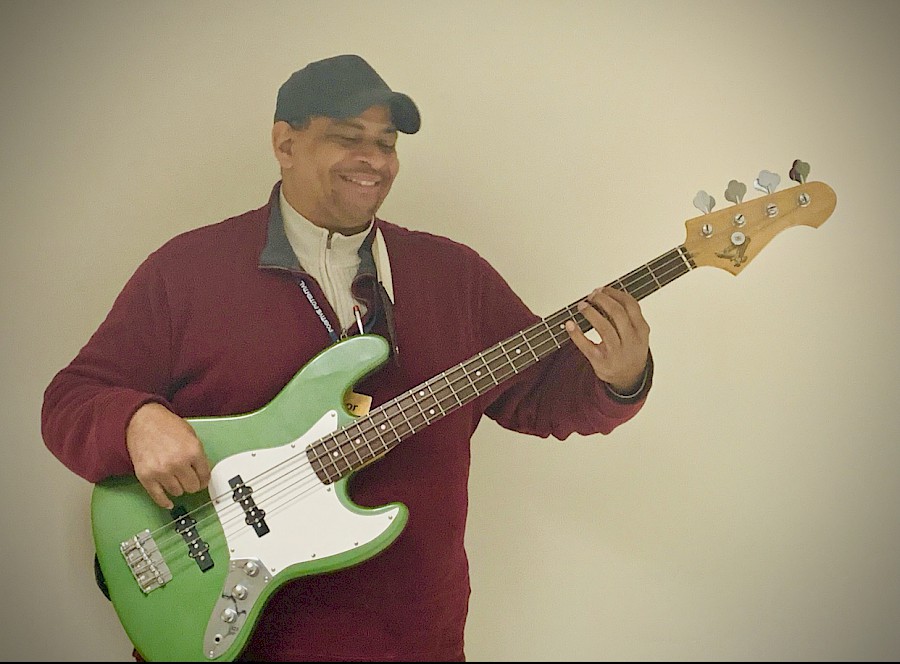 Randy Kirby came to Alvis to share his love of music with our clients. Music is in his DNA. He is a talented multi-instrumentalist who is married to a classically trained pianist. All five of their children play a variety of instruments as a result of being taught by their parents. What Randy loves the most, though, is teaching music to others and seeing the lights go on when someone "gets it."
Now that his kids are older, Randy had a little more time. His love of teaching music brought him to Alvis as a volunteer. He is working with men in our programs for individuals with intellectual and/or developmental disabilities (IDD). He teaches them piano, guitar and/or bass guitar, depending on their area of interest. Randy is personally a fan of 1960s Rock and Roll and blues from about any era. For many years when he lived in the Cleveland area, Randy played in "Club Sandwich," a Beatles cover band.
He first started working with the IDD clients in the fall of 2019. He loves their enthusiasm for learning and watching them figure stuff out. But Randy also admits he's had to learn to be more patient and go slower when a client doesn't want to move ahead at his typical pace. "I meet them where they're at," he says.
The Alvis clients couldn't ask for a more upbeat, energetic and caring teacher. "There's so much more that's positive about music than just learning to play," says Randy. "It boosts a person's confidence because it's like learning another language." He also notes, "Music can be a way for some people to process their emotions." Randy treasures the time he spends at Alvis and insists he gets more out of volunteering than he gives. "Watching them grow and stretch is a great feeling. I'm lucky to be part of it."
Thank you, Randy, for volunteering and helping to turn lives around!
Alvis is a nonprofit human services agency with over 50 years of experience. We believe in the power of second chances and coming together as one community to affect change. With our reentry, behavioral health, developmental disabilities, workforce development, family and children services, and the community, we can make a lasting 180 impact. Learn more about Alvis and how you can get involved at alvis180.org.