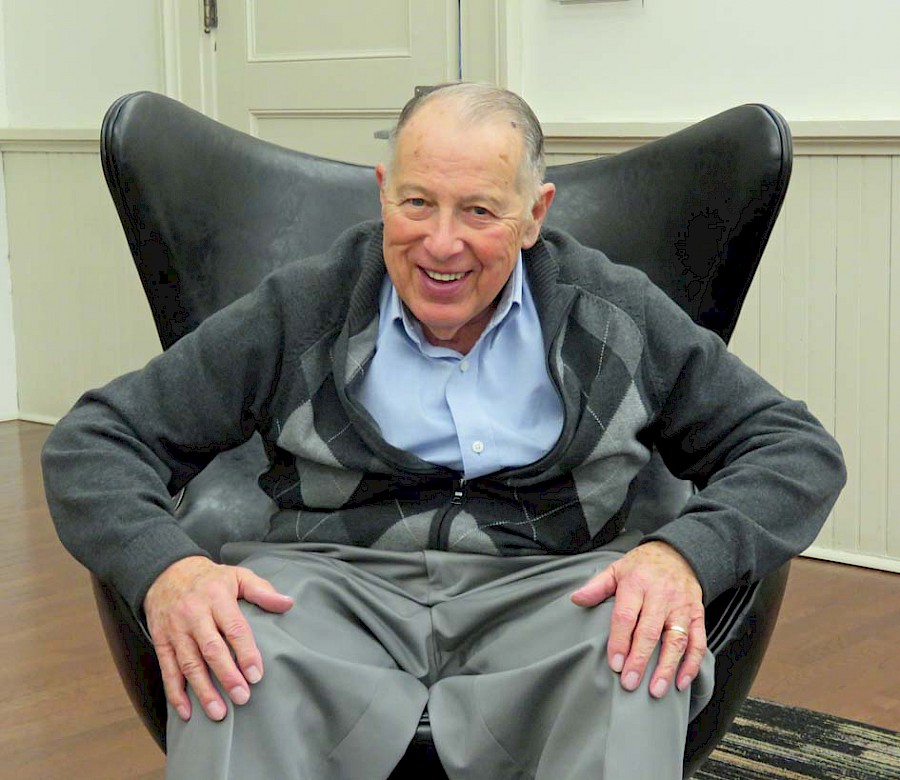 It takes love, compassion, and motivation to give back and make a difference. This extraordinary volunteer thinks anyone can do it.
"Don't look at them for where they are now, look at them for where they could be."

—Dick Wolf
Dick Wolf, 82, an experienced salesman and business owner in Columbus, has been volunteering at Alvis for six years. He has dedicated his life to helping others, and his experience at Alvis is only a small portion of his lifetime of volunteerism. He started his legacy of service on a weekly basis through his church, by helping in a food pantry and in community outreach.
During Wolf's tenure as a food pantry volunteer, the organization received a large monetary donation that they could spend however they wished. While searching for a good way to incorporate the funds, Wolf presented an idea that was inspired by one of his favorite quotes, from an old Chinese proverb, "You can give a man fish and feed him for a day, or you can teach a man to fish and you can feed him for life." They implemented his recommendation – a new program to help the homeless and unemployed learn effective strategies for goal setting, finding jobs and careers, and better managing their finances.
Wolf began building connections all over Columbus to improve this program – and one of the most impactful was Al Young, the employment services director at Alvis at the time. These two men created a strong relationship, based largely on their shared commitment to getting people off the streets and into employment that provided both income and self-worth. This common goal united these two men and their agencies. Wolf eventually began volunteering at Alvis through its H.I.R.E program (Help in Reentry Education), becoming a lead teacher and motivator to help individuals with a criminal record learn how to overcome barriers to employment.
A man who takes sincere pleasure in lifting up others, client success stories are Wolf's favorite part about his time volunteering with Alvis. He proudly tells the story of Gina*, a mother on welfare who was living in a two bedroom apartment with five children, all of whom resisted going to school. Gina told Wolf that she knew there had to more to life than how she was currently living – and she desperately wanted to prove to her children the importance of hard work and education. He helped Gina find a job that ultimately gave her hope, purpose, and most importantly, the opportunity to be the example she so desperately wanted to be for her children. Gina's children followed their mother's lead – and each graduated at the top of his/her class. Today, they are working as dietitians, managers, and, of course, hardworking volunteers.
Wolf also proudly shares the story of James*, who came to the Alvis H.I.R.E. program upon release from prison after serving 22 years. While in prison, James held multiple jobs and had earned respect from fellow inmates and the prison administration alike. When he arrived at Alvis, he told Wolf that he was determined and believed he could succeed in anything he set out to achieve. Impressed by James' motivation and healthy mindset, Wolf helped James prepare a resume and personal coaching to help him successfully complete the H.I.R.E. program. Unfortunately, James applied for countless jobs and secured countless interviews, only to consistently lose job opportunities once potential employers learned that he had spent 22 years in prison. Wolf suggested that James write a formal "letter of explanation" to provide more detail about the sentence and why the circumstance that led to it are a part of James' past, not his present or future. When asked the question on his next interview, James handed the interviewer the letter. This time, the outcome was different: James was hired at an entry level position and was promoted to a direct manager within six months.
The stories of people like this, who have turned their lives around - by 180 degrees - are all the motivation Wolf needs. When asked if it took any special skills to volunteer at a place like Alvis, he humbly responded that "love, compassion, and motivation - skills that everyone possesses," are all that's needed to give back and make a difference. "Nothing outstanding, anyone can do it."
According to Alvis' volunteer manager, Jackie Haight, Alvis values the time, talent, heart and compassion that each and every volunteer shares with Alvis clients.
"Every single one of our volunteers has unique knowledge and skills that help diversify our programs," said Haight. "But what we appreciate most is that every volunteer has his or her own story, each one has different motivations and experiences to share. And, when we're really lucky, an extraordinary volunteer like Dick Wolf will come along – with the unique ability to truly transform the lives of the clients we serve. He motivates and inspires our clients because he sees something positive in each client that they may not see it in themselves."
You can make a difference, too. Just click here to learn more about a variety of opportunities including:
Mentoring someone who is job seeking;
Facilitating activities to help reconnect mothers and their children; and
Special projects, such as painting, gardening, or helping at a special event.
*Names of Alvis clients have been changed to protect their privacy.
Mariah Haitz, Communications Intern