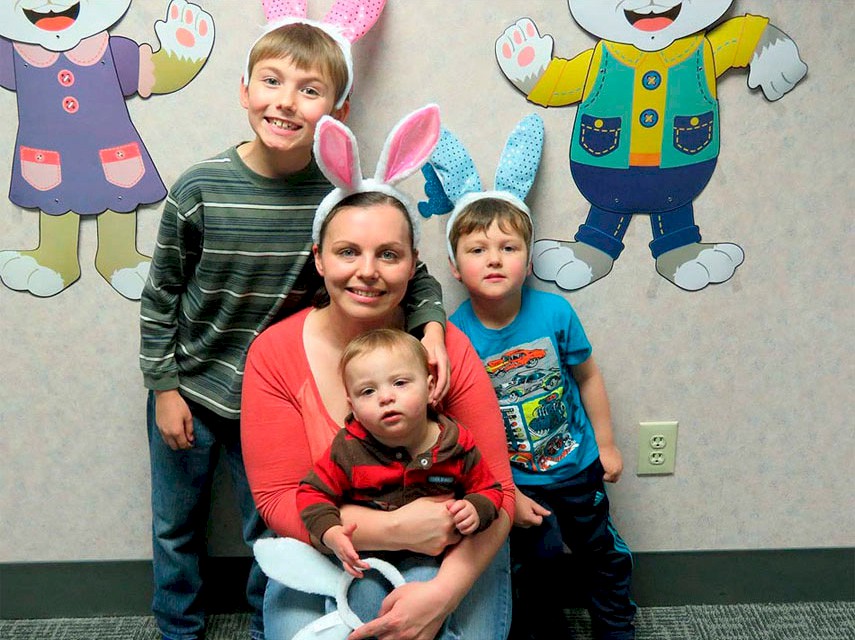 "I have always been there, but not ACTUALLY there."

—Mother of two from Alvis' Family and Children Program
Last week I had the honor of interviewing some of the precious children and growing mothers who participate in The Alvis Family and Children's Program. This program was established to heal families affected by a parent's involvement in the criminal justice system.
Having the opportunity to connect with and learn from these families was a truly touching personal experience. Here's just a small sampling of some of the heartwarming and hopeful insight I gained from a quick Q&A with some of the remarkable and courageous families who participate in this program.
Children's responses
Q: What has been your favorite activity in the Alvis Family and Children's Program?
"Christmas, when Santa Claus came and hung out with me and my mom."
Q: What is your favorite thing about your mom?
"I like how she is very pretty."
"How far she has come."
"How strong she is."
"How she's funny."
Q: What do you want to be when you grow up?
"A brain surgeon. I want to go to college for twelve years and I like learning how the brain works."
Q: If you could give your mom advice, what would you say to her?
"Stand your guard."
"Stay strong."
Mother's responses
Q: What has this program meant to you?
"It has rekindled and rebuilt my entire life."
"It's actually given me my second chance."
"It's allowed me to meet myself."
"It's given me time to think about what I want for my children when I am out of the program."
"It's allowed me to bond with my children."
Q: What is something you have learned about your child during this program?
"EVERYTHING."
"I have always been there but not actually BEEN there. This program has taught me things every mom should've known: (her) shoe size, allergies, favorite colors, her best friend's name."
Q: What do you believe is the best advice you've received in this program?
"Stay encouraged."
"The best advice wasn't spoken, I could tell they loved me before I could love myself."
"Stay positive."
"Don't let your past dictate your future."
Q: Has the program changed you and your child's relationship?
"Yes, when I was in prison, I was 2 ½ hours away and my mom only brought the children once. Now I get to see them every other weekend thanks to Alvis."
Q: What is one thing you want most for your child's future?
"I want to be there in it."
"Be a positive role model."
"A bright future."
The Family and Children's Program at Alvis works to heal families affected by a parent's involvement in the criminal justice system. Children in this program range in age from three to fifteen, and most have been separated from their mothers for months and sometimes years. Now that their mothers have completed their sentences, Alvis is helping them through the process of returning to their communities and reconnecting with their families.
Never in our nation's history are services like this needed by so many. Nearly half of U.S. children have a parent with a criminal record**. Often times, children of incarcerated parents face mental health problems, school failure, stigma from peers, and trauma on the same scale as divorce, abuse and domestic violence. This leads to a higher risk for substance abuse and involvement in the justice system. It's an unhealthy, unproductive, dangerous repetitive cycle.
The Alvis Family and Children's Program seeks to end this cycle by helping to reconnect parents who have spent time in prison with their children. Since it began in 2014, it's served over 400 children, and, as some of the comments I shared earlier indicate, it's making a significant impact. The program is currently offered to every mother who participates in Alvis' residential reentry program in Columbus, Ohio. Alvis would eventually like to expand this program to other facilities, and to fathers who have been involved in the justice system, too. This opportunity awaits funding and resources.
The Family and Children's Program consist of two indispensable components the first is educational, and the second is in-person contact. Mothers receive parenting education and training, often for the first time in their lives. They are taught effective communication and discipline strategies, they learn how to set appropriate boundaries, and they receive guidance to help them understand basic parental responsibilities. Moms are then given the opportunity to demonstrate their new skills in part two of the program, during which they are given the opportunity connect with their children. They write letters, poems and make crafts for their children, which Alvis mails to their children to help maintain the mother-child connection during their stay at Alvis.
The mothers also have the opportunity to visit with their children twice each month. Research shows that families who eat meals together are stronger, which is why meals are at the center of family visit days, as caregivers and children join their mothers for a bonding experience. It's during these in-person visits that moms get to put into practice the tools and training the program provides – and these visits are also where we see the magic of reconnecting families. By the end of the program, the majority of participating families report closer relationships. To date, 113 women have graduated from the program and will receive case management services for up to two years now that they have completed the program.
Are you interested in helping families rebuild and end the cycle of incarceration? If so, contact Jackie Haight, Alvis' volunteer and intern manger via email at Jackie.Haight@alvis180.org about volunteering with Alvis' Family and Children's Program. Alvis is always seeking community volunteers to help organize activities for family visit days – which provide a meaningful, hands-on opportunity to connect with Alvis' clients and their children. You can also make a donation to support the Family and Children's Program, or attend Alvis' annual Evening of Light celebration, which raises funds for and awareness of this important program.
**Statistic provided by, Center for American Progress 2015
By Mariah Haitz, Alvis Communications Intern