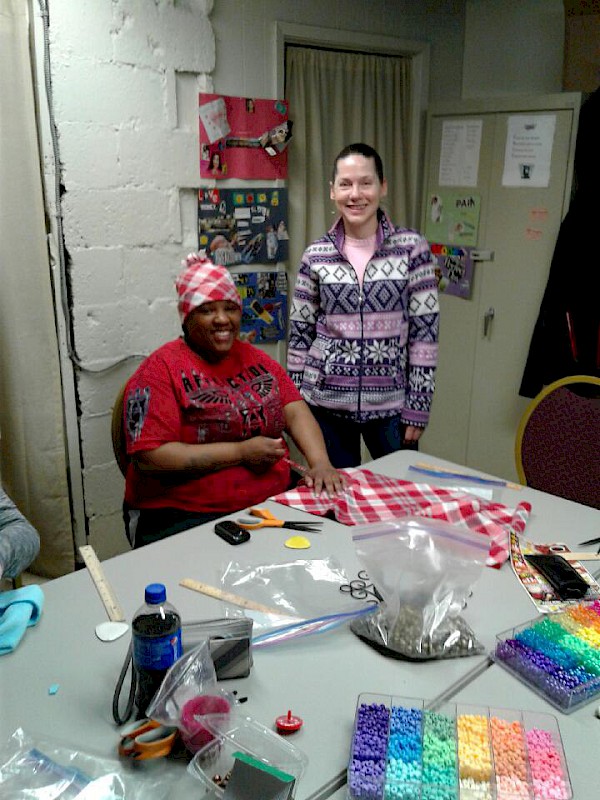 As we continue celebrating National Volunteer Month, we did a series of Q&A sessions with Alvis volunteers.
Why Alvis?
My introduction to Alvis was through a sewing group I belonged to about 18 years ago. One of the women in the sewing group was familiar with Alvis and through her we learned that the ladies of Alvis could use hats and scarves so we made 35-40 sets of hats and scarves for several Christmases. Once our group disbanded, I continued to support Alvis via monetary contributions through work.
I retired in January 2016 and once I had settled in to retirement, I began looking for a way to give time as well as money. I was present at the Martha meeting in 2018 when Alvis gave their presentation. I had previously had contact with Paige so I reintroduced myself to her and asked about volunteer opportunities. I filled out the application, was background checked and here I am.
What is the impact you can make?
Sewing has been a hobby of mine since I was very young and over the years it has given me a sense of accomplishment as I completed projects. I have learned many skills over the years, not only actual sewing techniques but also intangible skills like problem solving, patience, seeing a project through to the end and the self-confidence to succeed at something. My hope is that through the crafting classes, the ladies can develop a sense of accomplishment in the completion of a project that they can then take and apply to bigger projects or other areas of their lives.
Importance of volunteer work for the community?
We are all in this world together. Sometimes someone needs a helping hand to give him/her the opportunity to succeed.
Any memorable moment you experienced while working as a volunteer at Alvis that you could share?
My favorite part of the crafting class is seeing how creative the ladies are. Basically, I just provide the raw materials and some basic instructions. They have created some of the most beautiful necklaces, pins, jewelry bags and hats/scarves. The joy I see in their faces when they have created something beautiful for themselves or a loved one just reinforces that I am in the right place.
Any message you want to send to donors? clients? staff? community?
Working with the ladies of Alvis has been a very rewarding and wonderful learning experience for me. I would recommend volunteering to those who might be interested in sharing their expertise or gifts in helping support someone on their path forward.
Thank you Rosemarie! We appreciate all you do for Alvis and the community as a whole!
Alvis is a nonprofit human services agency with over 50 years of experience providing highly effective treatment programs in Ohio. Our vision is that communities value a person's potential more than their past. For more information on how Alvis can help you or to learn more about how you can get involved, contact us here.