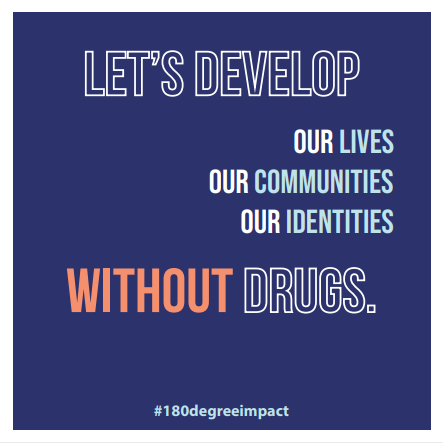 According to the 2019 World Drug Report, in 2017, an estimated 271 million people across the world had used drugs in the previous year, while 35 million people were estimated to be suffering from drug use disorders. It was also estimated that, globally, there were 585,000 deaths and 42 million years of "healthy" life lost as a result of the use of drugs. For people with drug use disorders, the availability of and access to treatment services remains limited at the global level. Only one in seven people with drug use disorders will receive treatment each year…
Today, Friday, June 26, is International Day Against Drug Abuse and Illicit Trafficking, also known as World Drug Day. This global observance has been supported by individuals, organizations, and communities all over the world since the United Nations resolved it in 1987. See resolution 42/112 here. This year's theme is "Better Knowledge for Better Care" which strives to emphasize the importance of combating misinformation and educating on the significance of the world drug issue. Why is this significant? The better we can understand this complex issue and how to treat individuals, the better we can care for them and fight against the drug epidemic as a united society.
Unfortunately, a big misconception about drug addiction is that it is a choice. This causes many individuals, policy makers, and even some service providers to hold the belief that drug disorders are a moral failure and a crime that needs to be punished. However, according to Mountainside Treatment Center, although the initial decision to misuse a substance may be voluntary, it impairs the way the brain functions in the long-term. It is in fact a multi-factorial health issue, "a primary, chronic disease of brain reward, motivation, memory, and related circuitry," (The American Society of Addiction Medicine). These disorders are very complex with factors out of the victim's control such as genetics, mental health, and environmental factors. Not only does Alvis strongly hold this belief but it was also agreed upon by the Member States in the Outcome document of the 2016 United Nations General Assembly Special Session on the World Drug Problem.
Another myth about addiction is that a victim can quit whenever they want. But as previously mentioned, misusing substances can physically change and critically impact the parts of the brain that deal with judgment, decision-making, learning, memory, and behavior control, (National Institute on Drug Abuse). Willpower by itself is most times not sufficient enough or even safe enough to try to achieve sobriety on ones own. "A person battling a substance abuse problem needs individualized medical and/or clinical treatments, integrative therapies, and mindful practices to restore balance to their life. They also need to develop coping skills and to re-establish support from family, employers, and friends—a crucial part of success in recovery," (Mountainside Treatment Center). In order to combat the drug issue globally, we all need to change the way we think about drug addiction. To learn more about World Drug Day on the United Nations home page click here. #FactsForSolidarity
There is hope! At Alvis, we offer two judgment free behavioral health and addiction services, one for single women and women with children called Amethyst, and one which is inclusive to both males and females called Recovery Choices. In the Amethyst program, women with and without children can receive treatment for addiction, mental health, and trauma while also receiving supportive housing, job readiness training and placement. What makes the Amethyst program special in particular? It allows women to live with their children and works to reunite and strengthen families. Amethyst takes walk-ins and women seeking help can go directly to the main treatment facility located at 455 E. Mound Street.
Similarly, in the Recovery Choices program, individuals with justice involvement can receive behavioral healthcare and addiction services. Clients can also receive transportation from halfway houses to Alvis reentry centers, where they can take job training courses, receive counseling and individualized treatment plans, and have the opportunity to attain their GED, take university classes, and participate in activities with their family. Also check out our recent post "Recovery Housing at Alvis" to see three specific recovery programs for women called SHINE (Stable Housing to Inspire, Nurture, and Empower), CHAT (Changing Habits, Attitudes and Thoughts), and Belmar.
Alvis is a nonprofit human services agency with over 50 years of experience. We believe in the power of second chances and coming together as one community to affect change. With our reentry, behavioral health, developmental disabilities, workforce development, family and children services, and the community, we can make a lasting 180 impact. Learn more about Alvis and how you can get involved at alvis180.org.