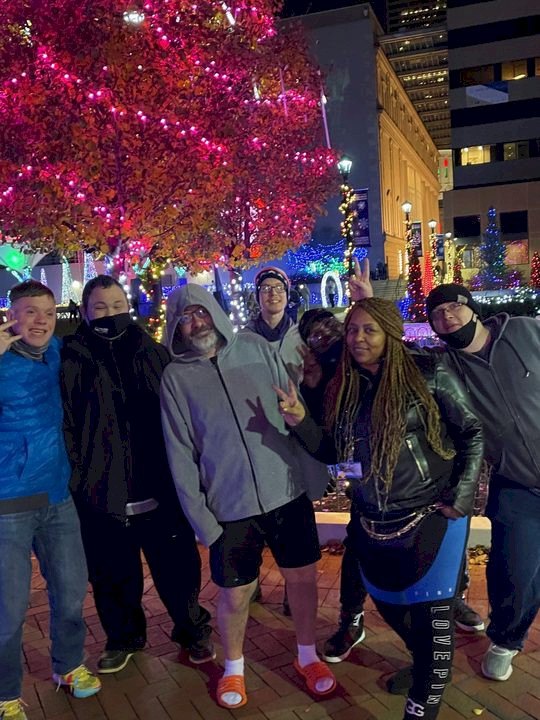 At Alvis, we recognize this time of year as a period of hope and giving. It is also a time to reflect. Alvis serves marginalized individuals who are consistently working to improve their lives and reenter our communities. As we reflect on our clients' transition and progress over the past year, it's inspiring to acknowledge and highlight their many achievements. 2021 was a very challenging year for many, and at Alvis, this was no exception. As we continued to navigate the erratic effects of the global pandemic, one unwavering certainty was our clients' commitment to their future goals and the exceptional care Alvis staff extended so that each individual had an opportunity to transform their lives 180 degrees.
Reflecting on the past year, the impact that our programs have had on our clients' lives is clear.
Inspiration
Alvis Family and Children's Programs
Our clients have an inspirational resolve to harness their inner strength and turn their lives around. They are supported and inspired by a passionate and dedicated team of Alvis staff who are truly committed to not only helping each client learn to address past traumas and barriers, but how to help their children and family members do this as well.
For many, the holidays are synonymous with family. But not all of us can celebrate with loved ones. At Alvis, we become increasingly mindful of this during the holiday season. Clients in Alvis programs are constantly working to reconnect and rebuild relationships with family members and friends. Family is a key motivator for many of our clients to complete their programming at Alvis and for this reason, Alvis often becomes more than just a temporary home - we become a second family for our clients.
One inspiring team member who understands the significance of family at Alvis is Janet George, Program Manager at Alvis' Family and Children's Program. The supportive community at Alvis is very much connected to Janet's commitment to help others. "Through volunteerism and my career, serving children and teaching children, has long been my life's work. However, I have a very special passion for serving children whose parents are in recovery from substance abuse disease. This deep passion stems from my personal family experience. In 2010 my eldest child died from medical complications caused by his addiction to drugs."
Ms. Janet works with children every day to inspire them and guide them through curriculum designed to break the cycle of trauma and substance abuse. Alvis' Family and Children's Program, in a league of its own, uniquely serves entire families impacted by justice involvement. Specifically, the program serves moms and their children in both our reentry program and the Alvis Amethyst program.
Moms in the reentry program are working to reconnect with their families, and Alvis professionals assist them with developing vital skills so they are ready to engage in these reunions. Alvis' Amethyst program serves children who currently live with their mothers. The moms, in recovery from co-occurring mental health disorders and substance use disorder, receive trauma-informed care from compassionate staff.
For Ms. Janet, there is a sense of solidarity with clients and an intense desire to see them succeed. Despite the many challenges and changes in K-12 education environments during COVID-19 restrictions, Alvis staff has gone above and beyond to ensure that the children in its program remain safe, healthy, and actively engaged in their education.
Programs like SummerQuest, also modified this year due to COVID-19 restrictions, engaged children in preventative programming in the form of a Summer day camp while their moms were participating in Amethyst treatment programs.
"Spending time at SummerQuest was one of the best summers (if not the best summer) of our lives. We experienced so many wonderful things together. They opened a children's garden with a beautiful mural, a book nook, and some lovely flowers. SummerQuest staff incorporated learning, reading, art, science, nature, fun, and love all throughout the Summer for the students and the families. Come rain or sunshine there was an amazing day planned for the students. Miss Janet planned the most incredible field trips. We made so many precious memories. We are so grateful to be a part of it. Thank you to everyone at Alvis, Amethyst, the donors, the SummerQuest staff and volunteers for such an incredible summer. A very special thanks to Miss Janet, Miss Sonia, and Miss Mariyam. WE LOVE YOU!"

—A Summer '21 Client in Alvis' Amethyst program
In addition to SummerQuest, the Family and Children's Team has navigated challenges head-on during the school year.
In response to the COVID pandemic, Columbus City Schools remained on virtual learning for most of the 2020 – 2021 school year. The Family and Children's team created a safe physical and educational space for children to attend school online while their moms attended programming.
While classes resumed to in-person status in the Fall, another challenge arose: school buses and transportation. Facing the issues of delayed arrival times to both school and the Alvis afterschool program for children, Ms. Janet and her team worked diligently to secure alternate transportation solutions that ensured the children arrived safely and promptly to and from school each day. Despite the transportation and scheduling barriers, Ms. Janet and her team made sure each child continued to access the support and education offered through our afterschool prevention programming.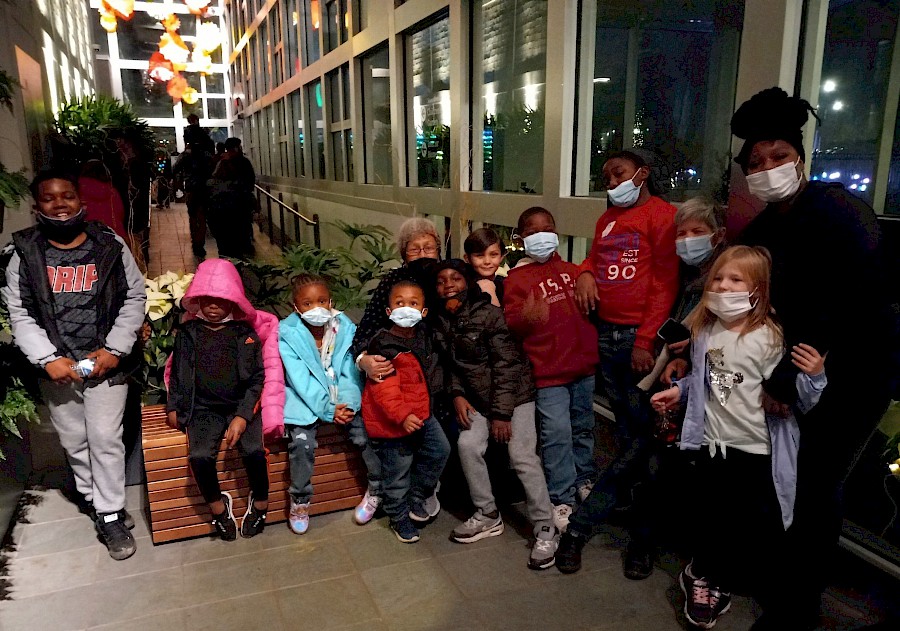 "I just wanna say thank you so much my kids attending SummerQuest helped my kids transition home. I got to bond with my kids, I got to talk to staff and got great advice. I am just so grateful and thankful that I got to experience this loving, trusting, honest program for me and my kids. Thank you."

—A Summer '21 Client in Alvis' Amethyst program
The Family and Children's Team is dedicated to education and literacy and has incorporated this focus in many angles of its programming. The Book Nook and The Peaceful Children's Reading Garden at Amethyst allow children access to books. The team has added sessions to parenting classes that discuss the importance of reading to children daily as well as strategies to keep children engaged in learning. Children attending HYPE (Helping Young People Excel), who are struggling with reading, are currently being assessed by our partners at Otterbein University and will receive individualized learning materials and support.
Alvis' Family and Children's Program is just one wonderful example of how our programs inspire clients of all ages to aim high and realize their full potential. By extending care to clients and their children, Alvis is able to help bring families back together, benefitting moms, their children, and those closest to them.
"The children we serve here at Amethyst have experienced multiple traumatic events related to their parents use of alcohol and drugs," says Ms. Janet. "Many have been homeless, abandoned, physically, sexually, and emotionally abused and a few were even born addicted themselves. Our goal is to provide a nurturing, structured, consistent, and loving environment to help our children learn how to grow into their full potential. We seek to teach and empower them to make positive choices that will lead to a successful and rewarding future."
Second Chances
Jesus Garcia
Every client has their own unique story. One common thread among all of our clients' stories is the power of a second chance. Jesus Garcia, who spoke at the groundbreaking for Alvis' expanded Alum Creek facility, provided us with some insight toward the crucial need for resources post-incarceration.
Just 37 days after being released from incarceration, Jesus Garcia was rearrested and on his way back to prison. "I used my prison network to find a job and a place to stay," he said. The results were both disastrous and predictable.
Jesus Garcia had already spent most of his adult life in prison, primarily as a result of his addiction to methamphetamine. He started down the path of addiction as a child, when he began drinking and smoking pot at age 10.
His quick return to prison was a wakeup call for Garcia, who was now in his 50s. "I decided to fight for my life and my future." While still in prison, he participated in an intensive addiction treatment program that challenged him to change his thought process while it also helped him work his way through the skeletons in his closet. "New, positive thoughts started to drive out the darkness inside of me," said Garcia.
When he was released, Garcia did the opposite of what he had done before. "This time, I turned my back on my prison network and came to the Alvis residential reentry program," he said. "The Alvis staff cared in a way I had never experienced before." He continued to attend substance use treatment sessions and started workforce development programming. Garcia got a job in a factory and began working his way up.
More than anything, however, Garcia grabbed a hold of opportunities to try to prevent other kids from travelling the same road that he did. Today, Garcia works as a Street Mentor for Halt Violence, a nonprofit based in Columbus, Ohio. "I have benefitted from second chances provided by people who looked beyond my past and were able to see my potential. People at Alvis believed in me and supported me in a new way of life," says Garcia. "Now, I'm doing my part to support second chances for others."
Clients like Jesus Garcia demonstrate the power of second chances and why it is imperative to reduce the stigma of justice involvement in our community.
As a community that cares about safety and the wellbeing of its residents, we must now come together to make a transformational generational impact for individuals, families, neighborhoods, and our Central Ohio community by Building Second Chances.
Dignity
Alvis' Fourth EDGE Graduation
Behind dignity is the feeling of being strengthened by one's inner power. Our clients deserve to feel the incredible impact that they are making on their own lives. The Alvis team works with clients to foster these feelings of readiness and willingness in Alvis' EDGE (Empower Development by Gaining Employment) Program.
"I remember EDGE taught us that, even in situations from our past may not have had the best outcome, we displayed unique characteristics that could be refocused towards positive, healthy, and beneficial aspects of life and that it would help you succeed. It gave many of us hope that we could actually do it. I have no doubt in my mind that every single one of us will make it."

—Shaun Demons, EDGE Graduate, 4th Cohort
For many, the importance of getting a job is paramount to reentering society. More than simply a workforce development or reentry service, the EDGE Program is a life enhancing, skills training, career development program built using cognitive behavioral interventions.
Alvis' EDGE Program is a partnership between Alvis, the City of Columbus, and the Workforce Development Board of Central Ohio (WBDCO). The program has served over 100 clients since its inception. On December 14, Alvis held its fourth EDGE Graduation. EDGE graduates reflected on their experience in the program, and staff shared words about their experiences working with the graduates. The immense joy in the room was palpable, as graduates faced their own families and loved ones in the audience, received diplomas, and closed the chapter on their transformative journey with newly-gained skills and tools to ensure their success. Every single person deserves the opportunity to access a job and a career. Every single person deserves the opportunity to become a dignified, self-reliant member of society.
"There is a story that we all have and that's the untold story. The penal system has told us what freedoms we had lost. However, it does not tell us how to get those freedoms back. I came here with shame and anxiety about my background. Getting through an interview was torturous. Fear of the ever-looming background check. Being qualified, but not confident. Now, I have freedom from those fears. The EDGE program and the facilitators have given us confidence, skills and education."

—Terry Bunner, EDGE Graduate, 4th Cohort
At this year's EDGE Graduation, Alvis' President and CEO, Denise M. Robinson, was clear that challenges should not be feared (in fact, they should be expected!), but graduates should never forget about Alvis if they ever need help in the future.
"Alvis will ALWAYS be here for you," Robinson stressed at the graduation. "Life doesn't always go in a straight line and it doesn't always angle up. Please don't let pride or despair prevent you from reaching out to Alvis for help. It's what we do – it's why we exist. Please don't forget that we are here for you."
Alvis is a community of support to all who need it. We exist to help others. Our clients, our former clients, and their families and loved ones are part of this community – for life.
Hope
Jackson Pike & POWER
Hope for our clients is powerful, and sometimes, it's everything. For many, hope is what keeps them going. The essential meaning of hope is "to want something to happen or be true and think that it could happen or be true."
For many of our clients, extended support from the community and from one another makes hope possible. This provides them with the "belief" that their goals may be attainable.
This Thanksgiving, local nonprofit organization, The Harmony Project, provided Thanksgiving meals to Alvis' Jackson Pike and POWER Programs. This generous act of kindness generated a very meaningful impact, and it did not go unnoticed by the clients.
"Just wanting to stay clean, wanting to be a better, productive member of society for my family. I've got a bunch of little kids as well."

—John, 2019 POWER Program Graduate
Jackson Pike Work Release is a program designed for male reentry clients at Alvis. Alvis' POWER (Partnering Organizations for Wellness, Empowerment, and Recovery) program is a partnership between Alvis and its partners, Franklin County Probation and Talbot Hall. POWER provides holistic, evidence-based treatment combined with court supervision, medication-assisted treatment (primarily Vivitrol), counseling, and behavioral therapies.
Alvis team members made it clear that The Harmony Project's Thanksgiving donation meant the absolute world to the clients. "We have a lot of gentlemen here that just served a lot of years. This will be the first turkey and mashed potatoes and gravy…" emphasized Dana, a Community Reentry Specialist at Jackson Pike. "It's awesome! It's about giving and they're going to really be grateful."
Clients were grateful for the experience, and presented staff with a beautiful handmade card. A few standout thank you messages were: "You made my day." "Thank you for the meal and your time invested." "Thank you for everything! God bless." You can view the card here!
DD Services
In addition to Alvis' Jackson Pike and POWER Programs, another program that finds hope during the giving season is Alvis' DD Services Program.
Alvis' DD Services Program serves adult male clients who have been diagnosed with an intellectual/developmental disability, have significant behavioral challenges, and need specialized treatment and intervention services. The program aims to help clients adopt prosocial behaviors and gain higher levels of independence, so they can live full, successful lives in the community.
For the guys in our DD Services Program, the holidays, although a challenging time, prove to be a very special time. In the DD Services Program, uniquely, the Alvis Family is their family.
"Christmas means everything to them," stressed Judy Williams, Crew Leader at Alvis' DD Services Program. "A lot of our guys don't have family like we know family so we have made it so that they see each other as family and it has proven to be very successful. They refer to each other as 'brothers.'"
The DD Services Program, in particular, celebrates the holidays as a tight-knit family – clients and staff included.
A Season of Giving
These stories serve as tremendous reminders that throughout the year, an entire community propels programs that sustain our clients' ability to hope and dream of a future where they may transform their lives by 180 Degrees. In a society that stigmatizes justice involvement and behavioral health concerns, these evidence-based programs and interventions make all the difference for our clients and help them realize that they are seen and supported.
Happy Holidays from all of us at Alvis! As we near the end of 2021, we are reminded of our reason for serving the mission of Alvis every single day: our clients.
Your gift to Alvis will help us serve even more clients in the coming year!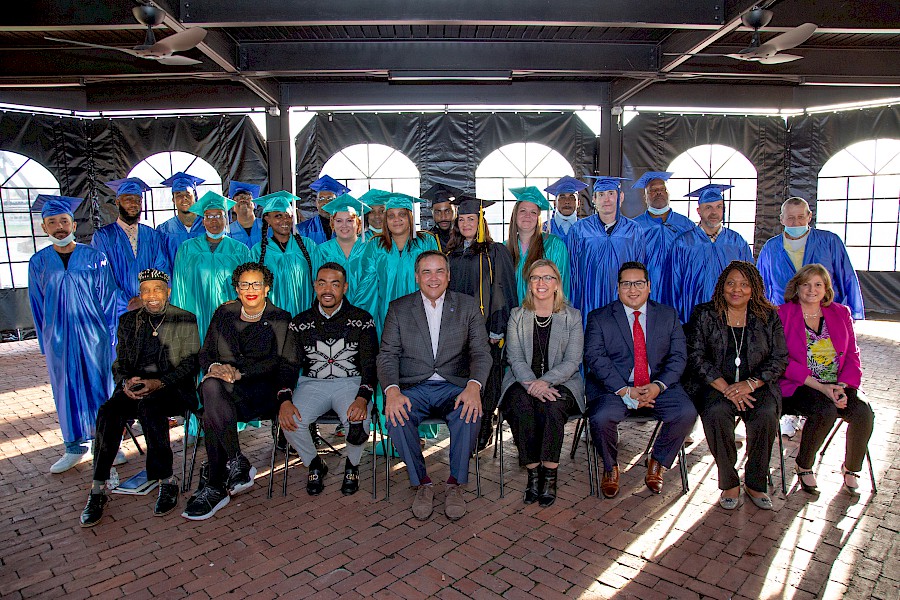 Alvis is a nonprofit human services agency with over 50 years of experience. We believe in the power of second chances and coming together as one community to affect change. With our reentry, behavioral health, developmental disabilities, workforce development, family and children services, and the community, we can make a lasting 180 degree impact. Learn more about Alvis and how you can get involved at alvis180.org.