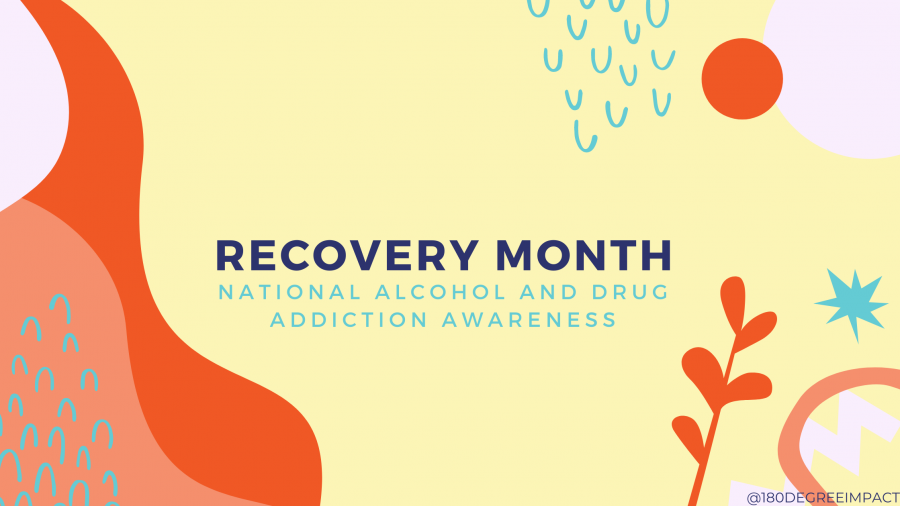 September is National Alcohol and Drug Addiction Awareness Month
Not a Choice
by Giles Paley-Phillips

On the wall there is a poster:
'Addiction is not a choice!'
I think about how it's easy
for some people to judge others,
to think their struggles are a
choice, that someone would actually
choose to be that way.
As stated in Paley-Phillips' poem above, addiction is not a choice. When people have substance use disorders and addiction, it is a chronic relapsing health condition. At the core of addiction lies the human desire for relief and/or a desire to feel better. Drugs and alcohol are known to change and alter our brains in a way that make it very difficult for people to get off them without having appropriate supports in place. There are many reasons why people start to use drugs and/or alcohol. Whether it's physical, emotional, or psychosocial pain or whether it's anxiety to help them cope with life – it all comes down to wanting to feel some sort of relief. However, for some people, it becomes a chronic relapsing health condition because the drugs and/or alcohol become the only outlet in which they can get the relief and comfort that they seek. Therefore, it is important that we have support networks in place that are compassionate and meet people where they are to guide them on their journey to recovery.
National Recovery Month (Recovery Month) is a national commemoration conducted every September to raise awareness about how drug abuse treatment and mental health services can help people with mental and/or substance use disorders live a healthy and fulfilling life. Recovery Month honors people who have made progress in their recovery, just as we honor those who have made progress in managing other health problems such as diabetes and heart disease. This commemoration emphasizes the positive message that behavioral health is important for general health, that prevention works, that treatment works, and that individuals can and do recover.
When it comes to addiction recovery, communication is one of the most effective support strategies. When in recovery, building relationships and having someone to turn to can help overcome feelings like isolation and loneliness that tend to accompany addiction. Grief, love, loss, parenting, and being a child are all difficult in their own ways, but sharing experiences, in whatever form, always helps us understand that we are not alone. Shared experiences, no matter how unpleasant, have a lot of worth.
Here at Alvis, many people in our programs want to break free from their addictions, mental health issues, criminal histories, or isolation from their family. These dreams, however, are placed on hold due to daily stressors. It takes a lot of effort, dedication, and a deliberate desire to achieve and break free from your present "norm" of life after it has established a routine. Setting successful objectives, according to The Recovery Village, can help people cut down on their drinking and drug usage. It's remarkable what we can do little by little. Alvis assists clients in focusing on the final objective. While our clients endure ups and downs, obstacles, and unanticipated problems, their desire remains unwavering. They devote themselves to Alvis' programs and remain with us because of their dreams, even on extremely difficult days.
One of the most inspiring and uplifting events of the year is Portraits of Recovery! Our Amethyst rehabilitation program relies heavily on this yearly event, which takes place in the fall. Amethyst is a client-centered rehabilitation program for women who are addicted to drugs or alcohol, as well as women who have children. We aim to empower women and their children by assisting them in establishing healthy relationships, obtaining permanent housing, and achieving economic stability– since all these elements lead to a successful and long-term rehabilitation. Following an evaluation of need and the appropriate degree of care necessary, or if a referral to another care provider is required, Amethyst services are available to anyone. To make an appointment for an assessment, please call (614) 242-1284 or email to infoAME@alvis180.org.
During the Portraits of Recovery event, women share inspirational experiences of healing and recovery, as well as the impact Alvis' assistance has had on their lives. Hundreds of people join us to support Amethyst, the life-saving program for women who are dealing with addiction, mental health concerns, or trauma. You can watch the Portraits of Recovery ceremony from 2020 on the Alvis YouTube channel. Many people relapsed because of the pandemic last year, as they sought relief from extreme stress. In terms of opioid overdoses, the year 2020 set a new high. However, we won't be doing our annual Portraits of Recovery event this year as a precaution to the pandemic, which means that we need your assistance now more than ever. Donate today and help us ensure our women and children receive the assistance they require. Your support allows us to provide:
EMPOWERMENT for a Family ($15,000)
ENRICHMENT for an Individual ($10,000)
COURAGE to Begin Again ($5,000)
OPPORTUNITY to Dream Big ($3,000)
DIGNITY to Stand Tall ($1,000)
HOPE to Move Forward ($500)
Recovery Choices is another one of our programs dedicated to addiction rehabilitation, which opened at the Alvis House Community Reentry Center in 2015. The program aims to help people recover from substance misuse while also improving the community's general health, well-being, and strength. Integrative therapy, health care services, and linkages to other community resources are available at facilities in Columbus, Lima, Toledo, and Chillicothe. For more information about Recovery Choices – or to get help for yourself or someone you know – call (614) 252-8834, or email recoverychoicesintake@alvis180.org.
Alvis believes in the power of second chances and coming together as one community to affect change. You can change your life by enrolling in one of Alvis's programs because we can help fulfill your needs and guide you on the road to recovery. And to those who have turned their lives around with the aid of our community, we honor you and we are so proud.
If you are not yet ready to join Alvis, perhaps you can start with finding a supportive community online via social media. Search hashtags (e.g. #soberAF, #zero proof cocktails, #recovery, #mental health) and instantly find accounts that resonate. Start your own Instagram or Twitter to stay accountable and document your sobriety if that's your thing. Find a community not bound by a particular program and create what you need.
National Recovery Month is a commemoration, a celebration, and a moment of education for individuals in our society who are often overlooked and misunderstood. The road to rehabilitation can be grueling and painstaking, but it's never a waste of time. Life is hard and no one ever comes out the other side unscathed. Things happen in our lives that leave behind wounds on our hearts and minds, some of which never go away. These things can make life more difficult to bear but, what really matters is how we choose to cope. You see, life is full of ups and downs. There is a constant ebb and flow. No one's life is 100% happy all the time. However, we don't truly appreciate happiness without knowing sadness. We don't value strength unless we've been through pain. We can't share compassion without knowing our own struggles and vulnerability. And sometimes, we don't know love without loss.
No matter what you are going through, keep your head up. There is much to look forward to in life. And even if you feel like you've hit rock bottom, do not worry; the dust will settle, and your arms will still know how to reach. Surviving in this world is a living, breathing, and creative practice. So, create something beautiful and remember that judgment only hinders our imagination. It all starts with you. Your monetary support can make a profound impact on families working towards freedom, sobriety, and a brighter future. Give online at alvis180.org/donate or send a check with the enclosed envelope. If you have any questions or would like to learn more, please contact development@alvis180.org.