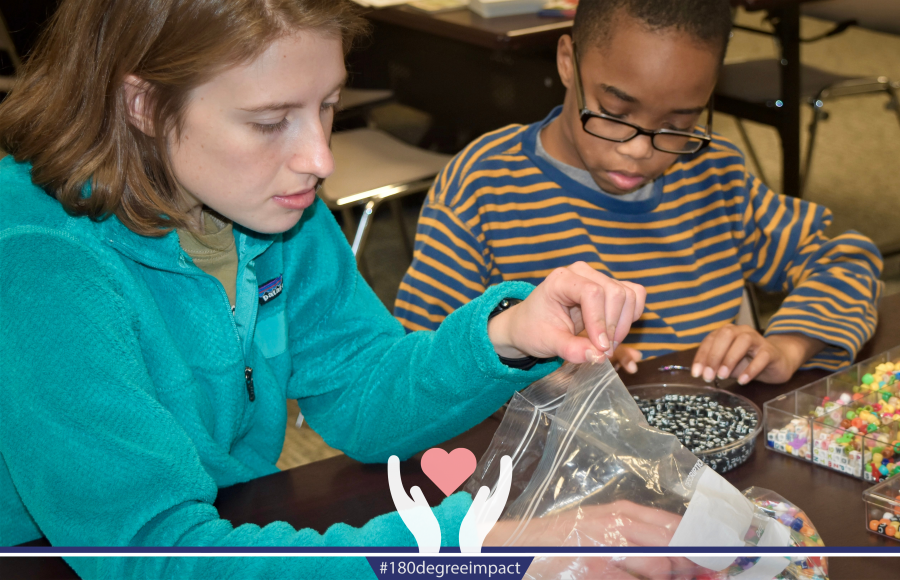 Today, July 15, is all about giving! Whether you are decluttering your closet, the pantry, the junk drawer, the garage, or even just have some extra time on your hands, celebrate by giving to people you know like friends, family, neighbors, or even people you don't know. Don't know where to start? Here, we'll help you!
Before you throw an item away, have you ever thought to yourself, 'could someone else use this?' The answer might be 'yes' more than you realize. Almost anything can be donated to someone in need.
Goodwill
Go through your closet and make a pile of clothes you haven't worn in the last few months. Donate them or offer them to a friend or family member. If you have children who are older or adults, consider giving away some of their old clothes or toys. Books and games that go unused might be a good idea for donating also. A good place for gently used items like these is your local nonprofit Goodwill store. Goodwill also accepts furniture, electronics, jewelry, DVDs, housewares, domestics, hand-tools and more. See a full list of what you can and can't donate in Columbus here. To find a store or donation center near you click here. Keep in mind, COVID-19 may affect some locations ability to receive donations. It's always a good idea to check with your own local Goodwill or donation center to see their new policies and what they accept. Some Goodwill locations do pick up donations as well. To learn more about the organization, their mission, donating, how to volunteer, or find a career at Goodwill, visit your local Goodwill's website or visit goodwill.org.
Habitat for Humanity
Habitat for Humanity is another nonprofit you might consider giving to. This housing organization helps families in need to build their own homes alongside volunteers. According to their website, their vision is of a world where everyone has a decent place to live. To find out how to volunteer near you click here. Habitat for Humanity also has a chain of home improvement restores where proceeds are used to, "build strength, stability, self-reliance and shelter in local communities and around the world." These stores accept new and gently used appliances, furniture, building materials, household goods, cars, and more from individuals and companies. Each store is unique, and many locations also accept items outside these categories which is why it is always important to check with your local store on what they accept. To learn more about this and the donation process, visit their sites donation page or learn more about them at habitat.org.
The Salvation Army
A third, similar donation option could be to the international Christian charitable organization called the Salvation Army. This organization accepts donations for a range of services and help they provide including for their food pantry, disaster relief, homeless shelters, drug and alcohol rehab, job training programs, human trafficking help services, veteran services, domestic abuse help services and much more. Donate to any one of these specific causes by going to the Salvation Army homepage and clicking under "What We Do." They also accept a range of goods including appliances, automobiles, clothing for children and adults, furniture, household goods, electronics, books, and games. Learn more about how and where to donate goods here. If you are interested in even more ways to give including toward airline miles, sponsoring a child overseas, or volunteering, visit the Salvation Army "Ways to Give" page. See more about the mission and history here as well.
The American Red Cross
Not interested in donating money or goods? Donate blood! The American National Red Cross is a nonprofit humanitarian organization that provides emergency assistance, disaster relief, and disaster preparedness education with the help of volunteers and lifesaving blood donors. According to the Red Cross website, 90% of the humanitarian work of the Red Cross is carried out by volunteers. Interested? Find your volunteer opportunity here! You may also consider donating blood, platelets, or plasma. Did you know, every two seconds, someone in the US needs blood? One donation could potentially save up to three lives! Red Cross has a whole page about giving blood including how to find a blood drive near you, how to host your own drive in your area, eligibility requirements, the donation process, and blood facts. Click here to learn more. Read more about the Red Cross, their work, and their mission on their site as well.
Consider Donating to Alvis!
We are a nonprofit human services agency providing reentry and family support programs, behavioral health and substance abuse treatment services, recovery housing for women and their children, and services to individuals with developmental disabilities who are trying to live more independently in the community. Our mission is to innovate and deliver evidence-based human service programs that empower those we serve to build successful, productive lives. We serve nearly 10,000 men, women, young adults, and children in Ohio each year and our programs indirectly impact tens of thousands more. We work to keep families together, make communities safer, and give people the inspiration, the encouragement, and the tools they need to turn their lives around 180 degrees. But we could not do it without the help of our generous volunteers and patrons!
Volunteer
Here at Alvis, we are always looking for volunteers. Whatever your interests, skills, strengths, we can use your help to change people's lives around, big or small. Whether that's helping clients study for their GED test, tutoring math or another subject, assisting at a fundraiser, pulling weeds, hanging shelves, teaching a yoga class, or hosting craft classes/activities, every little thing really helps and we have endless opportunities for you. The sky is the limit! Get involved and give your time to give others a chance today by applying on Alvis's volunteer page or email James Hagerman at volunteer@alvis180.org with questions (ask us about working remotely too).
Donate
Thank you, donors and volunteers, for all you do. Without you, Alvis and other nonprofits just wouldn't be possible!
Happy Giving!
Alvis is a nonprofit human services agency with over 50 years of experience. We believe in the power of second chances and coming together as one community to affect change. With our reentry, behavioral health, developmental disabilities, workforce development, family and children services, and the community, we can make a lasting 180 impact. Learn more about Alvis and how you can get involved at alvis180.org.