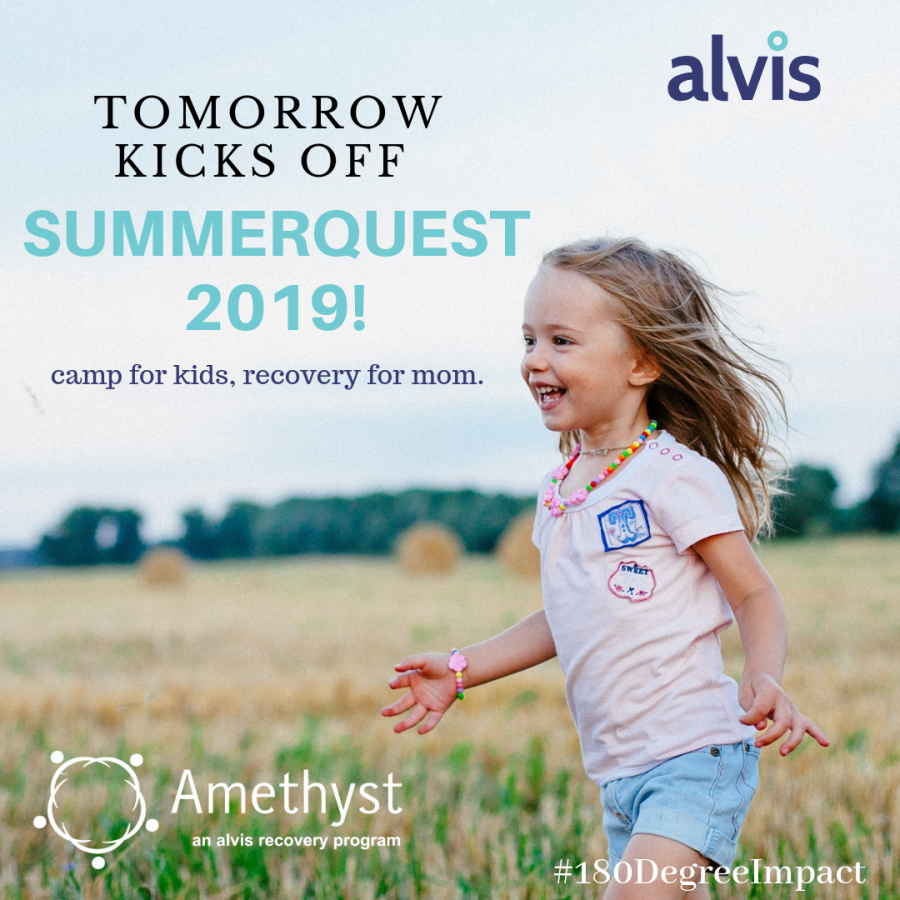 The SummerQuest kick-off takes place May 31st from 1-3 PM outside of the Amethyst program's primary location at 455 E. Mound Street. SummerQuest is a day camp for children whose mothers are in treatment at Amethyst, an Alvis Recovery Program. The camp fosters fun, new experiences for kids, while allowing mothers to focus on their treatment.
Kick off festivities include: DJ, face painting, picnic foods and a popcorn machine, a bounce house, a craft table, kids' games, and pictures with the camp mascot, Ace. Food will be donated by the Powell location of Jersey Mike's Subs (thank you Stephen Inskeep)!

SummerQuest coincides with summer vacation for Columbus City Schools' students, so the kick-off takes place on their first day of summer vacation. Open to kids aged K-12, the program is funded by the ADAMH Board of Franklin County, Ohio Department of Mental Health and Addiction Services, and private donations.

Kids arrive daily to SummerQuest, where they participate in outdoor activities and take trips to exciting, interactive places like COSI and the Columbus Zoo and Aquarium, as well as going to summer staples, like swimming pools.

All children are divided into appropriate age groups, which each have one counselor and one counselor assistant. Amethyst's other specialty programs for youth take place during other breaks (such as winter break) in the middle of the school year. These programs allow children to receive similar rewarding experiences, while their mothers continue to progress in their recovery. Mothers receive peace of mind, knowing that their kids are in a safe environment. SummerQuest also gives kids the opportunity to make friendships and enjoy the fun of the summer alongside peers who've had similar experiences.

Alvis is a nonprofit human services agency with over 50 years of experience providing highly effective treatment programs in Ohio. Our vision is that communities value a person's potential more than their past. For more information on how Alvis can help you or to learn more about how you can get involved, contact us here.