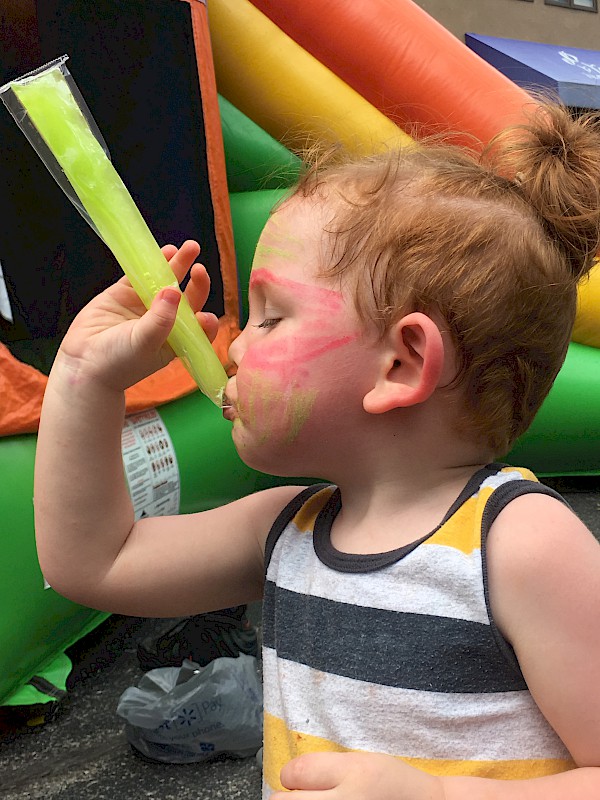 This past Friday, children and mothers joined in festive fun to celebrate the beginning of SummerQuest—an annual summer camp for kids staying at Amethyst, an Alvis recovery program for mothers with children.
When children arrived, they were given goodie bags filled with trinkets, such as water bottles, sunscreen, and candy. Summer bops filled the sunny afternoon with ambiance, while contests involving ring toss, beanbags, and bubble blowing, encouraged lots of friendly competition. The most popular activities were the face painting station, where moms painted their children's faces with flowers, butterflies, and other colorful designs, and the bounce castle, where children adventured under the watchful eyes of their mothers and staff.
The children were visibly ecstatic to be at there. When asked about her favorite part of SummerQuest, returning camper, Rylee, said "seeing all my friends." This was echoed by many other children as well, and noted by their mothers. For mom, Cierra Baker, this was her first SummerQuest. As a mother, she is currently a client in the Amethyst recovery program. "It just means that my children, while I'm working on myself and in treatment, actually get to have fun and do stuff that normal children get to do during summer, so I think that it's an amazing thing and I'm really grateful for it." While this is Baker's first SummerQuest, another family—mother, Courtney, and daughter, Denise—wearing matching Lilo and Stitch tops, experienced their third and final kick-off. "It's meant a lot for us…when we're at SummerQuest, we feel like we're with family," highlighted Denise.

Mothers Heather Whaley and Rachel Huddleston found value in the friendships that their kids are able to make at camp. Whaley's kids are able to "learn social skills" and "be a part of the community," while Huddleston appreciates it as "a place for them to talk to people" and "learn how to be team players."
According to Audia Fraley, Clinical Program Manager at the Amethyst program, 40 kids are currently registered for SummerQuest, which is funded by the ADAMH Board. "During the course of the summer, they'll focus on curriculum that helps boost their self-esteem and boost their protective factors." "I have the fortunate opportunity to work alongside the Child and Family Team,' said Fraley. " Without their assistance, this could not have happened." Like the mothers and children at Amethyst, Fraley finds SummerQuest as a time that encourages coming together. "When I say we came together as a family, we truly came together as a family to support families."
Heidi Hess, Clinical Director of the Amethyst program, reiterated that SummerQuest serves children aged Kindergarten through 13 years of age. SummerQuest serves kids who are sporadically visiting family members through the summer (like grandparents) and kids who arein treatment with their mothers. SummerQuest is funded by the ADAMH Board of Franklin County, Ohio Department of Mental Health and Addiction Services, and private donation so it can be provided at no cost to the mothers participating in treatment at Amethyst.
As the afternoon progressed, mothers, children, and staff, including Fraley and Hess, quickly congregated to dance the "Cha-Cha Slide" and the "Cupid Shuffle," proceeding to dissipate just as quickly to get back to the many other activities happening across the back lot. Food included Jersey Mike's subs, which were generously donated by the Powell location, as well as Rice Krispie treats, chips, juice, water, and soda.
Many kids also showed off their creativity, whether it was through doing the splits on the dancefloor, dying their hair with purple paint, coloring SummerQuest-themed pictures, or creating paper crafts. One camper, Juliana, performed her own solo version of "Fight Song" by Rachel Platten, and received cheers of adoration from everyone in attendance.
Near the end of the day, the staff at Amethyst recognized each camper with certificates of appreciation. This was followed by popsicles, a free-for-all water balloon fight led by the kids, and more dancing—by the end, even the DJ was dancing!
This is the 2nd SummerQuest for Managing Director of Behavioral Health, Sherry Inskeep. "What I've learned about our program," said Inskeep, "is that it really supports our ladies when they are in treatment. That's one of the goals of Amethyst…we take away all the barriers so that they have the time to really focus on their treatment." SummerQuest is a program that prevents added stress that summer could otherwise bring for mothers undergoing behavioral healthcare treatment, while also benefitting children, who learn, grow, and create lasting memories with their Amethyst family.
Simply put, Inskeep finds that the program is "a lot of fun that every other kid gets an opportunity to do during camp, and so we want to make sure our kids get to do that, too."
Alvis is a nonprofit human services agency with over 50 years of experience providing highly effective treatment programs in Ohio. Our vision is that communities value a person's potential more than their past. For more information on how Alvis can help you or to learn more about how you can get involved, contact us here.