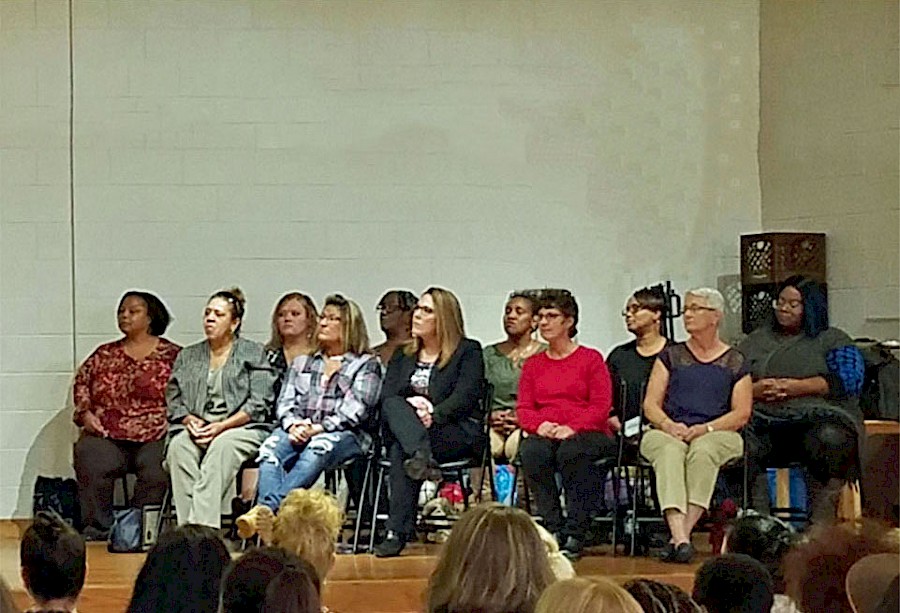 A new beginning with a different ending.
"Nothing is impossible. The word itself says I'm possible!"

—Audrey Hepburn
These inspiring words resonate well with 13 ladies at Amethyst who recently celebrated the completion of all five phases of treatment with a formal graduation on October 20, 2017. For some, it took longer than others, but all of them came to understand their worth as a result of the Amethyst program, and it kept them pushing forward.
The Amethyst program was established in 1984 and became a part of Alvis in May 2017. Amethyst is a community designed to support a lifetime of recovery through treatment and long term supportive housing for women and their children. The community that has been built over the last thirty years has been a beacon of hope for women struggling with addiction. Amethyst shows how important it is to have people who stand behind you when you think you might fall. Women in the program get to experience the importance of holding onto hope and learning to accept the changes that are going to come in everyone's life.
Amethyst makes it clear that everyone in recovery should celebrate how far they've come and how strong they have remained. Positivity and determination can go a long way in supporting recovery from addiction. Beyond that, each client also has the support of their community to ensure they will make it. This support creates the resilience to survive and thrive. "If you want to go fast, go alone. If you want to go far, go together," is an African proverb that captures the essence of the program.
Addiction is a disease that cannot be fought alone and Amethyst has built a community of women who respect, support and love one another. Amethyst helps women with substance abuse problems see that they can be happy and deserve a second chance. The 13 women who graduated shared how far they've come with current Amethyst clients and how their lives have changed for the better. The inspiring thing about all of these women is that they never gave up and never stopped fully believing that recovery is worth it. They kept going, no matter how difficult, and became survivors. In the process, they encouraged current Amethyst clients to stand up and be recognized for all their positive potential and hard work.
In today's society, we hear a lot about the tragedy of the opiate epidemic, but it is very rare to hear about the successes of people in recovery. If success stories were more common in today's media, it could help someone who is struggling with substance abuse gather courage to change their life. Fortunately, there were a lot of success stories to celebrate at the Amethyst Graduation, which will lead to even more success. It's because of the Amethyst community that these women are able to see the way out of their previous lives and enter into a lifetime of recovery. Having a group of strong, positive and hopeful women to encourage other women only makes the Amethyst community even stronger. These women are survivors. What they thought impossible when they arrived at Amethyst proved to be possible. By "suiting up and showing up," they have encouraged other women to keep moving forward toward their own lifetimes of recovery.
Molly Rapp, Communications Intern, is the primary author of this blog post.