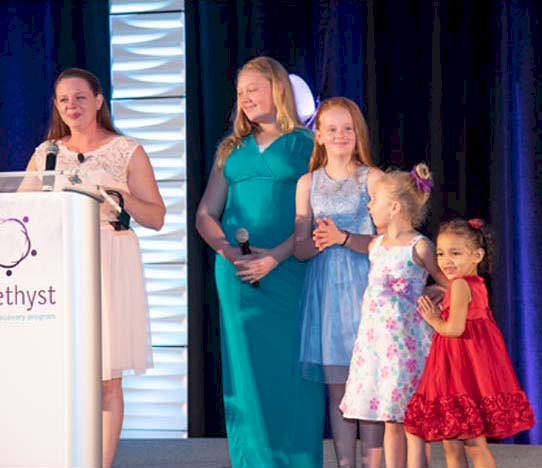 Thanks to Amethyst, an Alvis recovery program, Rachel has been clean and sober for more than 3 years.
When you look at Rachel today, she looks like a typical adult student at Columbus State who's juggling parenting, employment and classes. What you can't see is the trauma she's worked through in order to be where she's at in her life today.
Growing up, Rachel witnessed physical abuse, parental drug use, and much more that anyone so young should have seen. At 15, she went into foster care. By the time she started her senior year in high school, she was old enough to leave the foster care system and was able to begin living with a generous woman from her church. School had become a bright spot and a source of accomplishment. Rachel lettered in four varsity sports.
But the emotional pain that had been with her throughout her young life was crippling. She met someone who introduced her to hallucinogenic mushrooms and she believed that it helped her to cope – for a time. Within five years, Rachel was doing heroin as well as smoking pot and drinking. Because she was unable to hold a job, she relied on theft and other nonviolent criminal activity to pay for her habits.
As a result of her justice involvement, Rachel ended up in drug court. She went in and out of treatment a few times and was able to put together a few months of sobriety here and there. But the treatment she had just wasn't enough to help Rachel work through the trauma of her childhood. When she was hurting, she returned to old friends, bad habits, and places that led to relapses. Finally, when she ended up in a shelter in June 2015, Rachel hit her bottom and felt ready to go to the Amethyst program.
When Rachel arrived to the Amethyst program, she began an intensive treatment program. This includes classes, trauma counselors, group therapy and other therapeutic activities designed to address behavioral healthcare needs, such as substance abuse and trauma. The dedicated and caring staff finally broke through Rachel's carefully constructed defenses. One day, she just screamed all of her pain and frustration out while sitting in her car in a parking lot. It was the beginning of Rachel's new life.
Today, Rachel is in the "Community" phase of the Amethyst program. In this phase, clients are furthering their education, working, parenting, and learning to be productive members of their community. Rachel is living with her daughters in Amethyst's recovery housing, and applies what she's learned in the many sessions of parenting classes. Her children are in counseling and programming at Amethyst which is designed to help them heal from their own trauma. They also participate in a range of prevention programming to reduce the risk that they will become addicted in the future.
Today, thanks to Amethyst, an Alvis recovery program, Rachel and her daughters are a family again. Rachel has over three years of continuous sobriety. She is also taking classes to learn to become a trauma counselor and wants to help others heal, just as she was helped to heal. Best of all, Rachel and her children have a bright future because she committed to being a part of the Amethyst program's community of recovery rather than just attending a treatment program.